Machine Operator: Pros and Cons
Introduction
In the modern industrial landscape, machine operators play a crucial role in various sectors, including manufacturing, construction, and logistics. As skilled professionals, machine operators are responsible for operating and maintaining machinery and equipment, ensuring smooth operations and maximizing productivity. However, like any occupation, being a machine operator has its advantages and disadvantages. In this article, we will delve into the pros and cons of pursuing a career as a machine operator, providing insights for individuals considering this profession.
Pros of Being a Machine Operator
1. High Demand and Job Security
Machine operators are in high demand across industries. As technology continues to advance, the need for skilled operators who can oversee and control sophisticated machinery remains essential. This high demand translates into job security, as qualified machine operators are often sought after by employers looking to maintain operational efficiency and meet production targets.
2. Competitive Salary and Benefits
| | |
| --- | --- |
| Competitive salaries | Physical demands |
| Benefits package | Repetitive tasks |
| Job security | Work environment |
| | Stress and pressure |
| | Limited career diversity |
Machine operators often enjoy competitive salaries and benefits. The level of compensation may vary depending on factors such as experience, industry, and geographic location. Skilled operators with specialized knowledge in complex machinery can command higher salaries, while additional benefits such as health insurance, retirement plans, and paid time off further enhance the overall employment package.
3. Hands-On Work and Technical Skills Development
For individuals who enjoy hands-on work and problem-solving, a career as a machine operator offers ample opportunities to develop technical skills. Operating machinery requires a keen eye for detail, manual dexterity, and the ability to troubleshoot and resolve equipment issues. Through practical experience, machine operators can enhance their technical proficiency, gaining expertise in specific machine types and becoming valuable assets in their field.
4. Career Advancement and Learning Opportunities
As machine operators gain experience and demonstrate their capabilities, opportunities for career advancement and professional growth often arise. Experienced operators may be promoted to supervisory or managerial roles, overseeing a team of operators or taking on additional responsibilities within the organization. Furthermore, continuous learning and training programs are frequently available to machine operators, enabling them to stay updated on the latest technologies and industry best practices.
Cons of Being a Machine Operator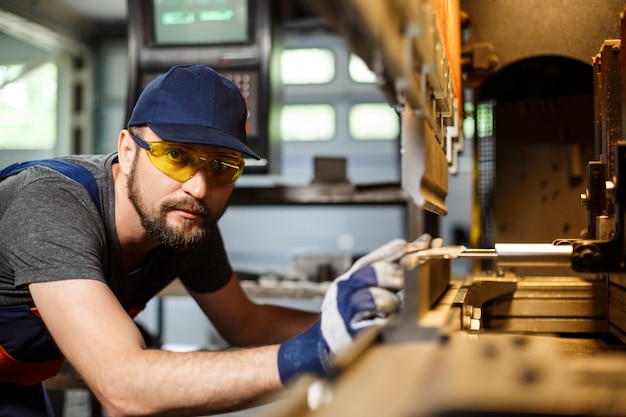 1. Physical Demands and Work Environment
Working as a machine operator can be physically demanding. Operators may be required to stand for long periods, lift heavy objects, or work in confined spaces. Additionally, the work environment can sometimes be noisy, with exposure to potentially hazardous materials or conditions. Adhering to safety protocols and taking necessary precautions is crucial to mitigate risks and ensure personal well-being.
2. Repetitive Tasks and Monotony
Machine operators often perform repetitive tasks as part of their daily routine. Operating machinery may involve executing the same procedures repeatedly, which can lead to monotony and potential boredom. Sustaining focus and attentiveness throughout the work shift is essential to avoid errors and maintain productivity levels.
3. Stress and Pressure
Operating complex machinery requires attention to detail and the ability to make quick decisions under pressure. Machine operators may face time-sensitive production targets, tight deadlines, or unexpected equipment malfunctions that require immediate resolution. This can result in stress and pressure, as operators strive to ensure efficient operations while minimizing downtime and maintaining quality standards.
4. Limited Career Diversity
While machine operators possess valuable technical skills, the career path can be somewhat narrow in terms of diversification. The expertise gained as a machine operator may be specific to certain industries or machinery types, limiting opportunities for transition to other fields. However, transferable skills such as problem-solving, attention to detail, and teamwork can still be applied to related roles within the industry or different sectors with additional training and qualifications.
Conclusion
Becoming a machine operator offers several advantages, including high demand, job security, competitive compensation, and opportunities for technical skill development. However, it is important to consider the potential drawbacks, such as physical demands, repetitive tasks, stress, and limited career diversity. By weighing the pros and cons, individuals can make informed decisions regarding their suitability and long-term goals within the machine operation profession.
Whether you are an aspiring machine operator or an employer seeking skilled operators, PageAds offers a platform that connects job seekers and employers in various industries. Check out our job listings for machine operators to discover exciting opportunities and advance your career.
For more informative articles and useful tips, visit our blog section:
At PageAds, we strive to provide a reliable platform for buying and selling various items, connecting individuals across the United Kingdom. Explore our website to find great deals and opportunities for your needs.
Frequently Asked Questions
1. How do I become a machine operator?
To become a machine operator, you typically need a high school diploma or equivalent. Some positions may require technical training or certification programs specific to certain machinery types or industries. Gaining practical experience through apprenticeships or entry-level positions can also be beneficial in developing the necessary skills for this role.
2. What industries employ machine operators?
Machine operators are employed in various industries, including manufacturing, construction, logistics, automotive, and food production. The specific industries may vary depending on the region and local demand.
3. What safety measures should machine operators follow?
Machine operators must prioritize safety by adhering to established protocols and guidelines. This includes wearing appropriate personal protective equipment (PPE), conducting routine equipment inspections, and reporting any malfunctions or hazards to supervisors. Operators should also receive training on emergency procedures and be aware of the potential risks associated with specific machinery.
4. Are there opportunities for career advancement as a machine operator?
Yes, experienced machine operators can progress in their careers by taking on supervisory roles, moving into maintenance or repair positions, or pursuing further education to specialize in specific machinery or technologies. Continuous learning and staying updated on industry advancements can open doors for career advancement.
5. How can I find machine operator jobs?
PageAds offers a comprehensive job search feature, where you can find machine operator vacancies across the United Kingdom. Visit our job search page and customize your search criteria to find relevant job listings in your preferred location.
Remember, being a machine operator requires dedication, attention to detail, and a passion for operating complex machinery. Evaluate your interests, skills, and goals to determine if this career path aligns with your aspirations.
Disclaimer: The information provided in this article is for informational purposes only. PageAds does not endorse any specific career or guarantee employment. Individuals should conduct further research and consult with professionals before making career decisions.